GNN's award winning City of the Month for October is ... འབྲུག་ཡུལ་
Bumthang
in Bhutan, Druk Yul, meaning land of the thunder dragon.

Bumthang is considered the spiritual heartland of the country of Bhutan because it was from here, in the 8th century, that the whole country embraced Buddhism. Guru Rinpoche cured the local area king of a spirit induced ailment and this caused the king to immediately embrace Buddhism and gradually the whole country also did so.
The Bumthang Tangbi Mani Festival is a joyous religious celebration that takes place each year in October near Jakar. During the Bumthang Festival masked dancers perform in the courtyards of the Dzongs (fortresses) of the area. The courtyard of the monastery built in 1470 hosts the famous fire dance performed by the monks. There is music and dancing as valley dwellers and towns people dress in costume and celebrate to bring happiness, a good harvest and prosperity to the villages.
Bhutan is a country of many festivals and much happiness, in fact they measure the happiness of their country.
Masked dancers in the Bumthang Festival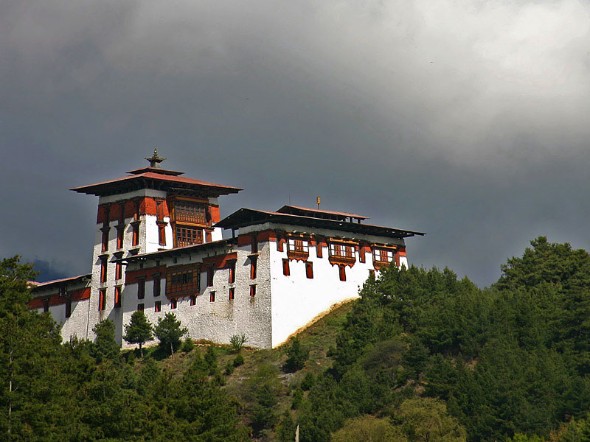 Jakar Dzong, Bhutan taken on May 5, 2005 by Jean-Marie Hullot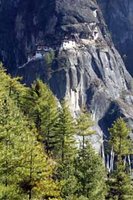 The Tiger's nest in Bhutan ... photo by wang
Bhutan, a Himalayan Kingdom, was formed in Asia early in the 17th century and it's main religion is Buddhism. The gross national happiness of the country is considered most important. The Bumthang valley is considered the most sacred of all valleys in Bhutan and one of the most beautiful.
The exotic animals alone make Bhutan fascinating... check out the bharal, migo, takin, snow leopard and serow to name but a few.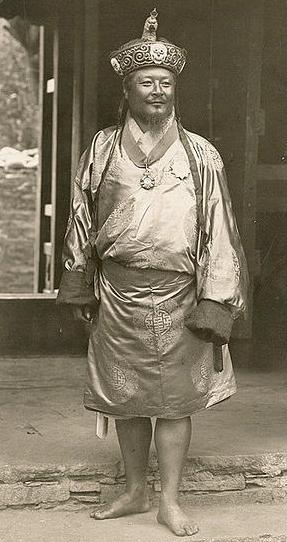 ABOVE: Gongsa Ugyen Wangchuck (Dzongkha:
)(1862–1926) He was the first King of Bhutan from 1907 to 1926. In his lifetime he made great efforts to unite the country. The photograph was taken in Punakha, the old capital of Bhutan, in 1905.