GNN's award winning City of the Month
for June is Ammeberg
Ammberg is in the southern part of Sweden.
It's Midsummer celebrations occur on the Summer Solistice in late June which marks the Ancient middle of Summer.
Ammeberg is near lake Vättern which is famous for the excellent quality of its water.

Situated in Askersund Municipality it has a population of around 600 people. It is thought to have been established in the 12th century.
The traditions on Midsummer in Ammeberg are focused on the midsummer pole, midsommarstång or majstång. The wooden pole is in the shape of a cross with two rings. (see one in the right of the painting)
Traditional ring dances, such as Små grodorna (The little frogs) are popular with people attending the celebrations.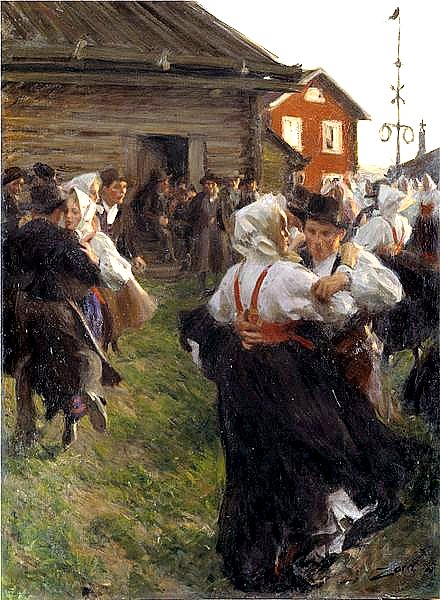 "Because Midsummer was thought to be one of the times of the year when magic was strongest, it was considered a good night to perform rituals to look into the future. Traditionally, young people pick bouquets of seven or nine different flowers and put them under their pillow in the hope of dreaming about their future spouse. In the past it was believed that herbs picked at Midsummer were highly potent, and water from springs could bring good health. " Read more.