Nelson Mandela speaks out for human rights.
"Through the work of the Nelson Mandela Foundation, the Nelson Mandela Children's Fund, and The Mandela Rhodes Foundation, I am continuing my struggle for human rights. These three charitable institutions operating in my name are tasked with continuing my work in important areas I have been concerned with throughout my life: children and youth, memory and dialogue, and building new generations of ethical leaders."
He wishes that all activists around the world "shine their candle of hope for the forgotten prisoners of poverty"
These are some of the words of Nelson Mandela upon receiving the Ambassador of Conscience Award from Amnesty International.
Nelson Mandela was awarded the "Ambassador of Conscience" Award in 2006.
"Today, we honour and pay tribute to the life and work of Nelson Mandela in the cause of freedom and justice in South Africa and around the world," said Irene Khan, Amnesty International's Secretary General.'
Mandela Day is on his birthday, 18 July, and is an annual international day adopted by the United Nations. It is a day to honour the legacy of Nelson Mandela, South Africa's former President, and his values, through volunteering and community service. Commemorating the many years that Mandela has given to the struggle for social justice.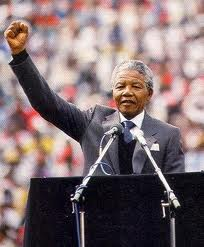 1993 Nelson Mandela Address to the Nation